Services for Visitors

We want your stay at the Manga-Comic-Con to be both relaxed and eventful. We will support you during your trade fair visit with our additional services. From our family service to book sales to catering: find out what the Manga-Comic-Con has on offer.
Services and Important Telephone Numbers
Emergency calls
Fire brigade
Rescue centre: Phone 112
Leipzig Exhibition Centre: Phone +49 341-678-1112
Police
Emergency call centre: Phone 110
Leipzig Exhibition Centre: Phone +49 341-678-1110
Nearest police station:
Leipzig North Police Station
Essener Str. 1, 04129 Leipzig
Phone +49 341 59350
Fax +49 341-5935106
Accident assistance/medical centre on the grounds of the Leipziger Messe
West Entrance Hall (Glass Hall) next to the hall manager's office
Hall 1, at Gate 1.9 Room 550
Sanicontainer Hall 4, right in front of gate 4.3
Central telephone number: +49 341-678-1115
Lost Property
Things sometimes get lost in the hustle and bustle of a trade fair. We keep found items for you in our lost property office. If you are looking for something, your request must be submitted by email during the event. After the end of the event, you can send us your enquiries both by telephone and by email.
Free WiFi-Network
Leipziger Messe offers a free WiFi network for trade fair visitors. To do so, please select the WiFi network "Leipziger Messe" in the WiFi settings of your device and follow the instructions.
ATM
You can easily withdraw money from your bank account at our exhibition centre. There will be both stationary and mobile ATMs from a range of banks available to you at various locations during the Manga-Comic-Con and Leipzig Book Fair.
You can find the ATMs here:
Sparkasse Leipzig (West Entrance Hall, Magnolienallee)
Euronet (East Entrance Hall)
Mobile Euronet ATM (main location: Glass Hall, location may change)
Exhibition Shop
Our trade fair shop has various goods and services on offer: from photocopying services and post boxes to tobacco products, luxury foods and non-alcoholic beverages.
Location
West Entrance Hall (Glass Hall)/Magnolienallee
Phone: 0341-678-7505
Opening times
9:00 am to 6:00 pm
Arrival and Accommodation
International visitor service
Customs
Clearance during the trade fairs is handled by DHL.
DHL Global Event Logistics GmbH
Messe-Allee 1
04356 Leipzig
Hotline: +49 341 678 72-44/-45
Email: fairs.lej@dhl.com
Peace Room
The Peace Room is a place a prayer for all religions. It can be used by all visitors and exhibitors. It is located in the Glass Hall. The directions for prayer are marked on the floor in the room. There is also a Torah, the Bible and the Holy Qur'an in German.
Catering to Your Taste
There are five restaurants, several snack bars, cafés and bistros to cater for your physical well-being on the grounds of the Leipziger Messe. Our first-class caterer, fairgourmet, offers everything from Viennese sausages to international buffets. Restaurants and bistros can be found between the halls. Cafés in the East Entrance Hall and in the Glass Hall await your visit and snack bars in every exhibition hall will satisfy smaller pangs of hunger.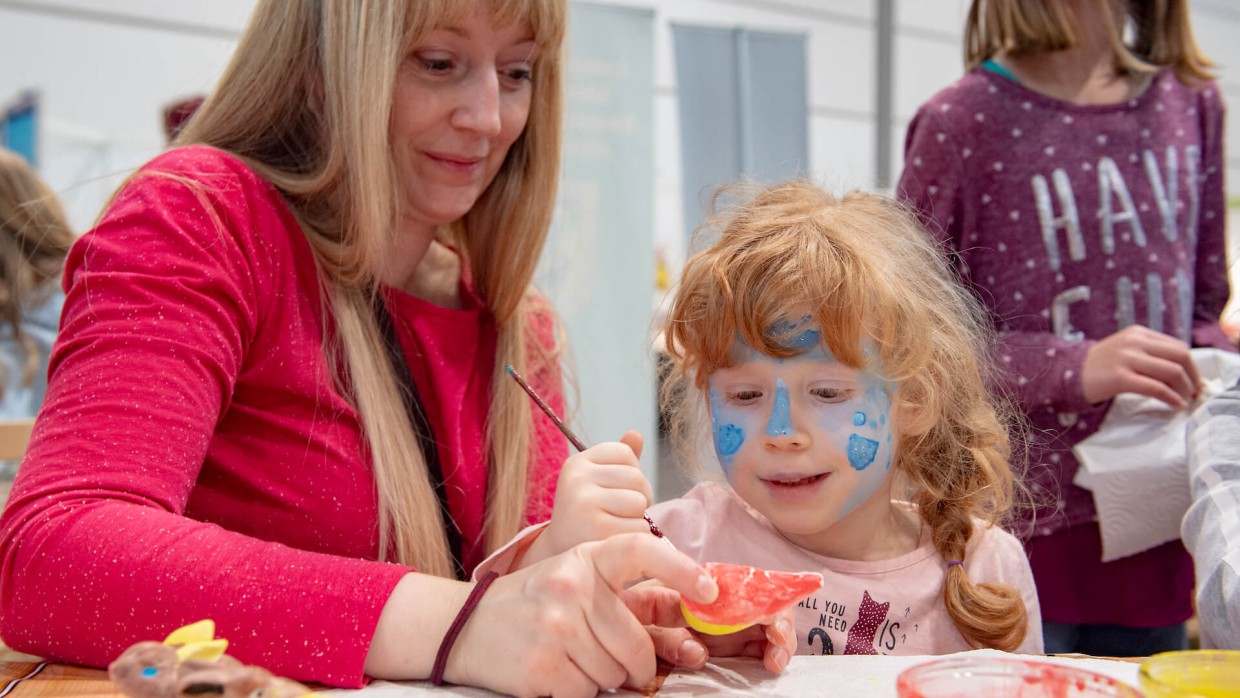 Family Service
The Manga-Comic-Con and Leipzig Book Fair is an experience for all the family. With the help of our special family services, you can also enjoy a relaxed visit to the fair with your little ones.
Breastfeeding and Baby Changing Rooms
Our two breastfeeding and baby changing rooms offer a place for you to be with your child undisturbed. Each room is equipped with a changing table and washing facilities.
These are located
• in the Glass Hall, Magnolienallee (next to the Exhibition Shop), as well as
in Hall 2
Children's Wristbands
To keep your little ones safe, you will receive free children's wristbands at all information stands. Just write your contact information on them, including a name and telephone number. This way we can inform you quickly if you should lose sight of your child in the hustle and bustle of the fair.